Happy Halloween!! My favorite holiday of the year and I have completely failed my inner holiday spirit. Maybe it's because I've just begun to see the leaves change, but I feel like autumn here just got skipped and it goes from 90 degrees to 70, and all of a sudden it's supposed to be 30 DEGREES tonight. TOO SOON! I dressed up only once (more on that tomorrow), I haven't eaten anything pumpkin related unless you count some homemade coffee spice, I never even carved a pumpkin, and I never got around to making the Halloween themed dog collars my mom and I got all the materials for. Fail. The only thing I did do was buy a pumpkin candle. Always next year, right?
One thing I am not failing at is posting regularly on my blog! It's Wednesday, which means I pose awkwardly for pictures and end up deleting them all. It's a process, I'll get better. I don't know if you've ever been to or heard of the store/boutique
Francesca's
, but I have always admired it. A lot of the time when I work up the courage to ask a female where she got her (insert clothing item) from, the answer is Francesca's. When I first saw them in the mall, I immediately went inside and lost track of time and subsequently forgot how broke I was. All I could think was I WANT ALL OF THIS. The front of the store is filled with adorable things that you probably do not need.
It was the clothes, however, that my heart really fell for. A couple of summers ago, I had the pleasure of visiting some family in Oklahoma. We always take a day or three to go shopping around the malls. And there it was, right in the middle of some wacky clothing shops. Luckily, my grandmother offered to buy me a dress of my choosing so I went straight here. I saw this dress with little tiny kitties on it, with little tiny fish bowls and polka dots, and knew it had to be mine. Okay, I'll shut up. Here's some photos of me actually wearing the thing.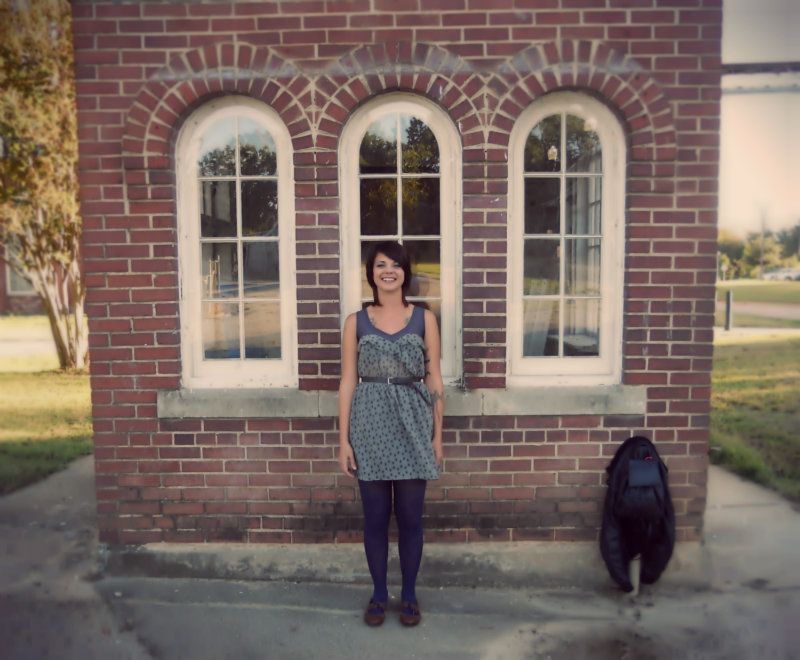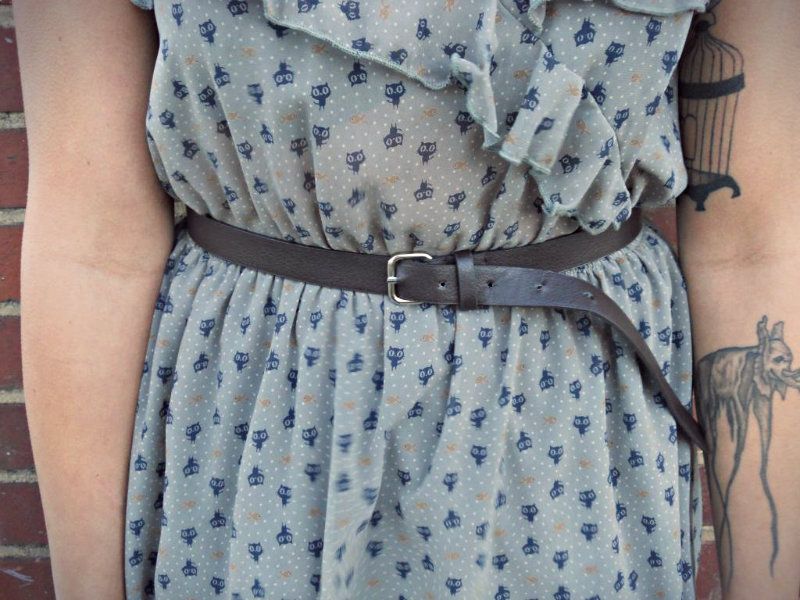 (you might be seeing a lot of them)
It's perfectly light for the miserably humid summers, but with some tights and a coat it's great for winter, too! I sort of have a problem with wearing way too much muted color. If I put no thought into it, I would end up wearing black skinny jeans, black combat boots, a solid colored shirt, and a black leather jacket every day of winter. Those brown flats I'm wearing were the result of me realizing I had not ONE piece of brown clothing. I went on a mission to get lighter and brighter colored clothes, which could have gone better but I think brown shoes were a good start. (It's a process.)

What are your plans for the actual night of Halloween? Do you get trick-or-treaters? I wish I did! Laying in bed, resting my sore abs, and watching scary movies sounds just fine to me.